History
In August of 1994, Bob Phillips, the orchestra director at Saline High School, approached some of his string musicians with the idea of forming an extra-curricular group with these primary goals: to learn traditional American fiddle music, to perform it for small audiences, and thus help to perpetuate this rich, musical heritage.
Bob believed that creating such a new program for high school students would greatly enhance their music education and their interest in musical performance.  He envisioned the program being one that would allow them to continue their classical music studies as a part of their high school curriculum but also give them the opportunity to use their own time to discover, master and perform a different style of music that has its roots in Saline's rural heritage as well as our country's history.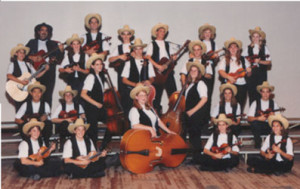 The response to Bob's invitation from 22 "founding fiddlers" was immediate and so positive that a uniquely student driven musical ensemble, the Saline Fiddlers Philharmonic, was born.  The group flourished under the leadership of Bob and his wife Pam Phillips for the next eight years.  The repertoire of the group, the size of the audiences, the distances traveled for performances, and the reputation of the group grew exponentially during this time.  Many fine singing voices were introduced and the ever-popular Fiddler Cloggers, under the direction of choreographer Sheila Graziano, were added to their shows.  Upon the Phillips' retirement in July of 2002, leadership of the group passed to Ben Culver, an alumnus of the group.
In 2004, the decision was made to split the group into two separate entities – one that would remain affiliated with the Saline Area School District, and one that would become an independent non-profit organization.  The former group was named Fiddlers Restrung, and the latter was called the Saline Fiddlers.  For the next ten years, both groups helped to solidify Saline's reputation as a national "hot spot" for youth fiddling.  You can read more about the history of each group from 2004-2014, their members and their artistic staffs at their archived websites using these links:
In 2014, Saline's two youth fiddling groups were reunified and celebrated their merger by returning to the name Saline Fiddlers Philharmonic.  One of their first performances together was at the "Hat's Off to Bob and Pam Phillips" concert which was a well deserved tribute to the two people who initiated Saline's tremendous fiddling tradition.